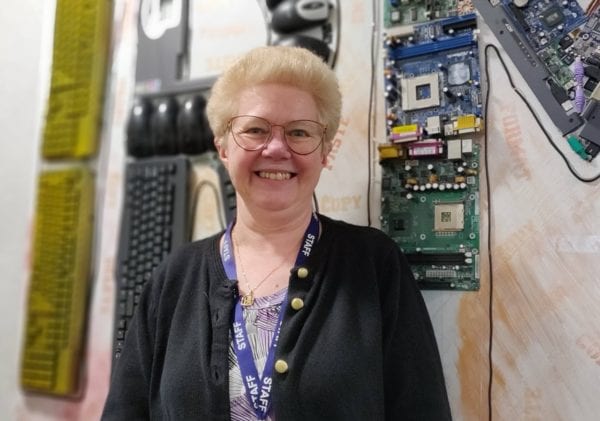 This week we say a fond farewell to Darinda Bugg, who takes her well-deserved retirement following an impressive 36 years of service with Queen Elizabeth's.
Darinda originally joined the Queen Elizabeth's Girls' School, then based on Woodhouse Road in Mansfield, in 1982 following a short time working for Boots in Nottingham packing pharmaceuticals. Starting in the science department, Darinda was employed as a lab technician, applying for the role because of her interests in chemistry and computing. She stayed in this role until 1993, when the girls' school joined with the boys' to become a co-educational comprehensive.
When the schools joined together, Darinda's role began to expand, firstly taking on supporting the reprographics function, and then a few years later changing jobs to become the school's IT technician. It is this role that Darinda has stayed in until her retirement today, over 20 years later.
She says, 'The school has changed dramatically over my career here, and I am leaving feeling very happy. IT and computing have come a long way since I started – in fact, we only had one computer room back in 1982, and now have multiple rooms with many different computers and devices to support our students.
Over the years, the thing I have enjoyed most is working alongside our brilliant academy and school staff– I will dearly miss them, and already have plans to keep in touch.
Since the academy became part of the Diverse Academies Learning Partnership, the central IT team have also been a great support to me and I want to thank them for their help.'
Darinda now plans to take some time enjoying her retirement and spending lots of time with her parents. She is also hoping to set up a vegetable patch in her garden, and is really looking forward to being able to take some holidays in term-time!
Thank you to Darinda from all at Queen Elizabeth's and from Diverse Academies for your hard work and dedication, and we wish you all the very best in your retirement.