Queen Elizabeth's Academy, part of the Diverse Academies Trust, today saw its sixth form students receive their A Level results at the academy with some great individual success stories. Students, who undertake their studies at the Hucknall Sixth Form Centre, received an impressive pass rate of 89% across all academic subjects, with 64% of all grades in applied (vocational and BTEC courses) subjects being graded at Distinction*/Distinction, the top grades possible.
These achievements will now enable students to continue into higher education, apprenticeships and employment – with 75% of all students receiving the great news that they had been accepted on their first-choice course at university. This included Harry Waring who achieved superb results with a Distinction* in business, a Distinction in law, together with two Bs in his A Levels (finance and the Extended Project Qualification). His success means that he is going on to study law at Nottingham Trent University. Harry said of his achievement: "I'm delighted with the grades I've been awarded after all the hard work I put into my studies. I'm looking forward to moving on to university and new experiences."
Also celebrating was Jessie Bostock, achieving A, C, C in her A Levels (Extended Project Qualification, English literature and English language) and a Distinction in law. She will now go on to the University of Lincoln to study law and said: "I'm so excited for my new adventure at university!"
Other top performing students include Vladislavs Trofimovs with A, B, C grades at A Level (Russian, finance and Extended Project Qualification) and Merits in sports and business – he admitted to being "speechless" this morning, and will now study Russian at the University of Nottingham, having only decided to apply in April.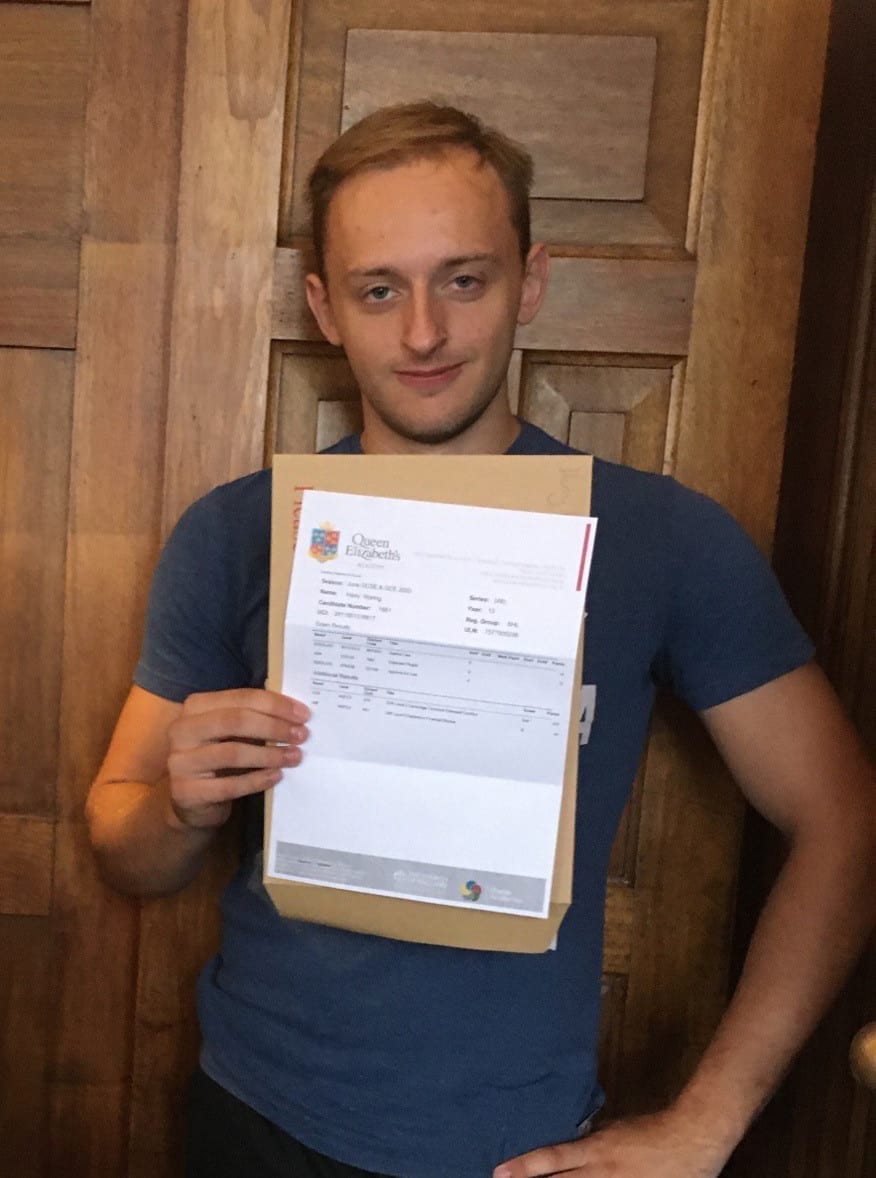 Another excited student was Sam Wilcockson, scoring two Distinction grades in business and law, together with two C grades in his finance and Extended Project Qualification A Levels.
Kimberley Willmot, principal of Queen Elizabeth's Academy, said: "I am so proud of our students' hard work during their time at the academy and in sixth form, and pleased to see great individual successes being celebrated today. This has been a truly unique and challenging year for all – we are so proud that the efforts of these students have been recognised, achievements reflecting their dedication to their studies and personal development. We wish them all the very best for their futures and know that they will thrive."
Paul Simpson, head of Hucknall Sixth Form Centre, added: "We have been so impressed by our students during their time with us – especially during the last few months that did not end in the traditional manner we would have expected. It is testament to these talented students that they have been able to achieve such good grades and will now move on to the next exciting phase in their lives."
Student numbers at Hucknall Sixth Form Centre (HSFC) are growing each year, with the centre having an excellent reputation in the local community and beyond. Mr Simpson added: "Students come to HSFC from all over Nottinghamshire because of the high standards of teaching, quality outcomes for all students and our wide range of courses. We still have limited availability for individuals to join us from September, and hope that these results demonstrate how the centre can support all students to achieve their goals."
If you would like to find out more about Hucknall Sixth Form Centre or wish to apply to start in September 2020, visit www.hsfc-ac.org.uk for more details.