In year 11 students have 25 lessons a week, these are allotted as follows:
Number of lessons per subject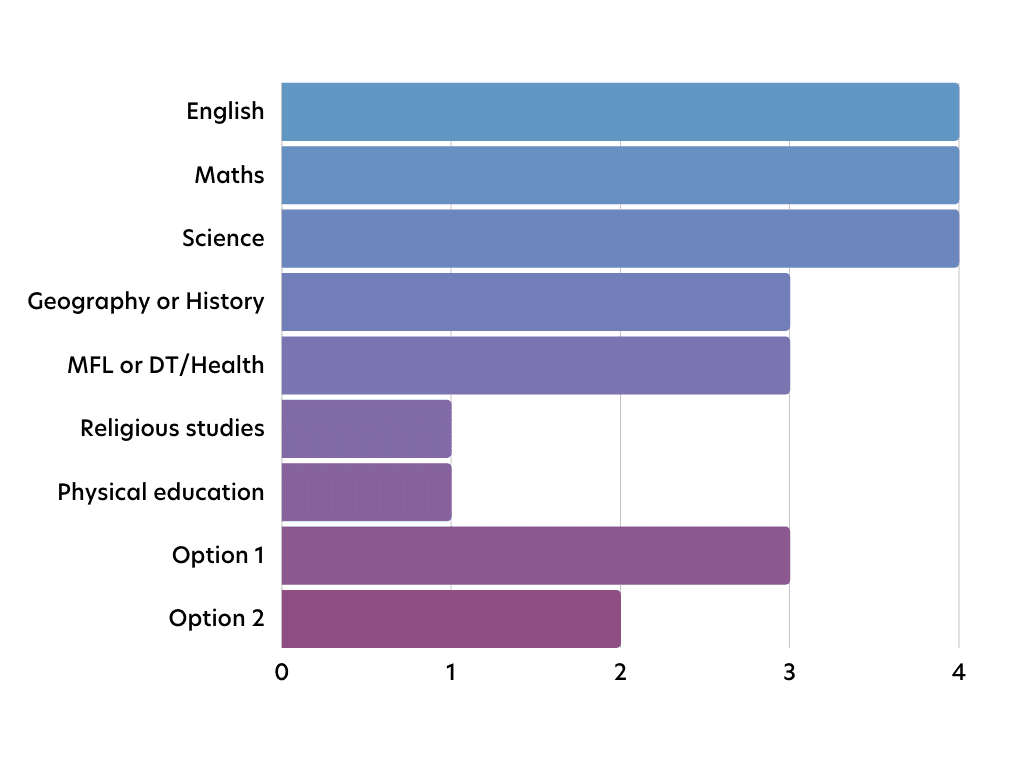 Below is a general overview of the topics students are taught throughout the year in each subject.
Students on the Ebacc pathway study English language and literature, maths, physical education and religious education.
They then have three further core options: combined or triple science, geography or history and French or Spanish. After this they choose to pursue two further subjects (if they have chosen triple science this makes up one of their two options).
Students on the Non-Ebacc pathway study the same core subjects as above, however they do not pursue a foreign language and therefore have three options instead of two.
For a more in depth outline of each subject please click on the link for the subject page.
If you would like to speak to us about any aspect of our curriculum please get in touch.
Core subjects
Regardless of whether students follow the Ebacc or Non-Ebacc pathway they will study following subjects.
Core subject options
Students must then choose between combined or triple science, geography or history and (for Ebacc students) French or Spanish.
Students following the Non-Ebacc pathway will need to choose an additional option in place of a language, see the optional subject list for all subject choices.
Geography
Autumn term
Changing economic world
How is uneven development affecting different nations around the world.
Physical Landscapes
Rivers
Spring term
Challenges of resource management
Geographical skills and revision.
Summer term
History
Autumn term 
Spring term
Summer term
Combined science
Autumn term
Ecology
Inheritance, variation and evolution
Chemical analysis
Magnetism
Space
Spring term
Chemistry of the atmosphere
Using resources
Revision
Summer term
Triple science
Biology
Topics are designed to enable students to understand the living parts of the environment around them and how their own body works. They will learn to use a microscope, investigate how organs within the body work and how scientists monitor the environment.
Chemistry
Topics will develop students' understanding of matter and chemical reactions between substances. They will carry out investigations to identify unknown substances and the factors affecting chemical reactions.
Physics
Topics cover the interactions between matter and energy, electricity and how the physical world works. They will learn how technology advances and how to investigate forces, magnetism and electricity.
French
Autumn Term
My environment
Travel and tourism
Spring Term
School and school life
Post 16 education and jobs
Summer Term
Revision
Spanish
During the GCSE course students will study three main themes. Each theme contains three or four topics.
• Identity and culture, covering topics such as family, friends, marriage, technology, free-time activities, customs and festivals in Spanish-speaking countries/communities
• Local, national, international and global areas of interest, including home, town, neighbourhood and region, social issues, healthy living, global issues such as the environment, poverty and homelessness, travel and tourism
• Study and employment, including topics on my studies, life at school/college, post-16 education, jobs, career choices and ambitions
Optional subjects
Additionally students choose to study two/three of the subjects listed below (two for Ebacc and three for Non-Ebacc students).